"And to take a look at the future of technology in the field, my colleague and OPEN MINDS senior associate Steve Ramsland, Ed.D. convened a lively town hall forum, The Future Of Health Care Technology: A Town Hall Discussion With Digital Health Executives, featuring Anupam Khandelwal, chief executive officer of SageSurfer; Eve Phillips, chief executive officer of Empower Interactive; and Dr. Corey McCann, chief executive officer of Pear Therapeutics." Read more.
"Keep an eye on these five companies, each blazing trails in telehealth and poised to become household names." Read more.
"For people with mental health problems, computer-based programs can be an effective alternative or addition to face-to-face therapy." Read more.
Empower co-founder Dr. Jesse Wright presents with Dr. Judith Beck at the annual American Psychiatric Association convention on cognitive-behavior therapy (CBT) for treatment-resistant depression. Read more.

This Health Enterprises Network event focuses on the digital delivery of medicine, its impact on the physical and behavioral health outcomes of patients and where we're headed in terms of health benefit trends. Panelists include Eve Phillips, CEO of Empower Interactive, and Sander Domaszewicz, health consumerism lead at Mercer.
"Traditionally, if you hit a wall of depression or anxiety or some other personal emotional crisis, your choices were to either figure it out for yourself or seek therapy. What that meant was week after week talking with a psychiatrist or other therapist to figure out a solution." Read more.
April 29, 2014: How will telemedicine shape the future of health care?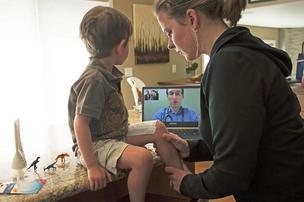 "Ask anyone in health care and they'll likely tell you that telemedicine has the potential to change their industry drastically." Read more about Empower and other innovative approaches in telemedicine.
Empower co-founder Dr. Jesse Wright is interviewed about applications of technology to address phobias.
In VentureBeat's inaugural conference focused on health technology innovation, Empower was chosen from over a hundred companies as one of ten finalists in their startup competition.
"Innovation and connection are two of the main themes of each year's TEDMED conference, and this year was no exception. In that spirit, Kaiser Permanente hosted a reception for delegates, and industry thought leaders on Thursday night featuring eight innovative start-ups." Read more.
Here are four startups that are taking a variety of approaches to behavioral health, from overcoming the problem of access to improving the quality of care.
Empower Interactive has been selected as one of the 12 newest Healthcare Transformers by StartUp Health. This program is focused on companies that are "fixing a broken healthcare system in ways that significantly reduce costs and dramatically improve care".
The newly released book, "Breaking Free from Depression: Pathways to Wellness" was co-authored by Empower Co-Founder & Head of our Clinical Advisory Board, Dr. Jesse Wright, M.D., Ph.D.
If you have experienced depression, the new book "Breaking Free from Depression: Pathways to Wellness" could help you overcome this problem. Written by a father-daughter team of experts in treating depression, the book is full of useful tips and exercises to build skills in controlling symptoms and achieving wellness. Drs. Jesse Wright and Laura McCray looked for "evidence-based" treatments (ones that have been proven effective in research studies) and describe how people can use the most powerful of these methods to put depression behind them.
Empower Interactive, Inc. today announced the launch of the consumer version of Good Days Ahead, the online program for anxiety and depression, on Help for Depression, a site focused on helping consumers cope with depression and anxiety developed by Healthline Networks, the fastest growing provider of intelligent health information services. Good Days Ahead provides access to evidence-based self-help applications for individuals experiencing depression and anxiety.
The Empower team is pleased to announce our selection as a finalist in the 2011 DC to VC Health IT Startup Showcase.